History
VARed Software started selling gradebook programs in 1988 when the DOS program VAR Grade, version 1.0, was released. As it became successful, it won numerous awards and was updated yearly. Later a Windows 3.1 version was released. This version was called VAR Grade for Windows 1.0. Version 2.0 contained both Windows 3.1 and Windows 95 versions. With the release of VAR Grade 2000, version 3.0, the program continued to evolve to meet the needs of teachers throughout the world. We have now released VAR Grade 3.1.
The program has users on six continents and numerous islands, in over 30 countries, and, of course, all over the U.S. We have sold site licenses to users in several countries, including to entire colleges and high schools, as well as to departments of schools and colleges.
Memberships
We are members of:
Association of Shareware Professionals (ASP)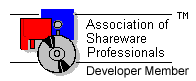 Privacy statement
We don't release names, addresses, or email addresses of any of our customers to anyone outside our company. We also don't track locations of visitors to our site.
Contact Information
Postal address

1490 Calle Fidelidad, Thousand Oaks, CA 91360 USA

Electronic mail

Customer Support:: support@varedsw.com
Sales: orders@varedsw.com